Pre-2009: We tested the iPhone 2G to compare with other smart phones including the Blackberry Pearl. We assessed the functionality and utility of the iPhone for applications relevant to science, education and productivity. ,A secondary goal was to understand if we could develop applications for the iPhone if resources could be allocated to us to accomplish such work (which we were not). This was the first phase of our work. Many of the applications we found useful are superceded by the new operating systems and new models of the iPhone as well as greater capability with the camera, GPS and other features. A Report describes the applications tested.
In order to track the budget projections, spend plans and time to exhaust funds, CMO was interested in having a visual tool to represent the financial status of the projects in our portfolio. It was also desirable to have a web-based listing of the new and past funding opportunities relevant to STScI expertise - these are largely NASA Announcements of Opportunity (AO) and other Requests for Information (RFI). As an additional task, CMO was asked to create a tool that tracked our projects and also illustrated resource loading for proposals and projects under our puriew. We decided to use a web based tool to meet our needs.
We storyboarded our design, after itemizing the data and information we wished to visualize. We also desired to be able to pull the requisite data from existing databases and RSS feeds so that little or no human intervention would be required. The following components were developed:
Budget pie chart: The first tabbed page of the dashboard contains a pie chart depicting the CMO projects.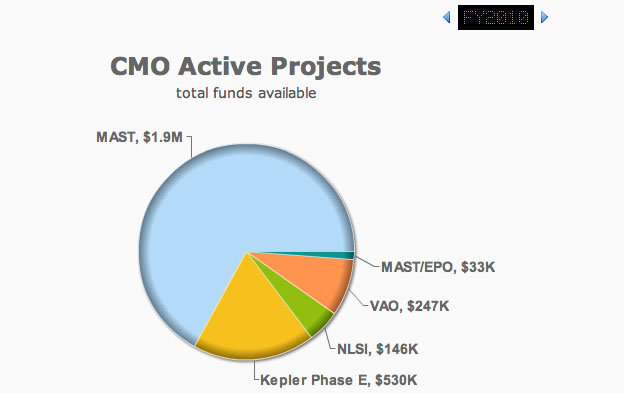 Project budgets: Clicking on a project, such as Kepler reveals the Kepler budget profile -- actuals vs. the planned budget. This information is extracted from iPlan. Our intention was to pull this information from the database that feeds iPlan or to have a service that automatically pulled information from iPlan to populate the visual interface. This was apparently disallowed, so our approach is to extract this information by hand.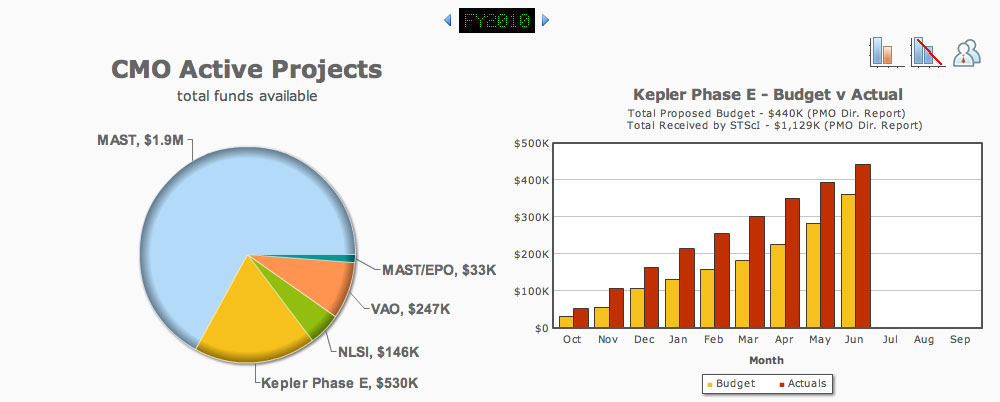 Project spend plans: The interface provides a depiction of the budget spend-down (planned and actual), by clicking on the middle button in the upper right part of the screen.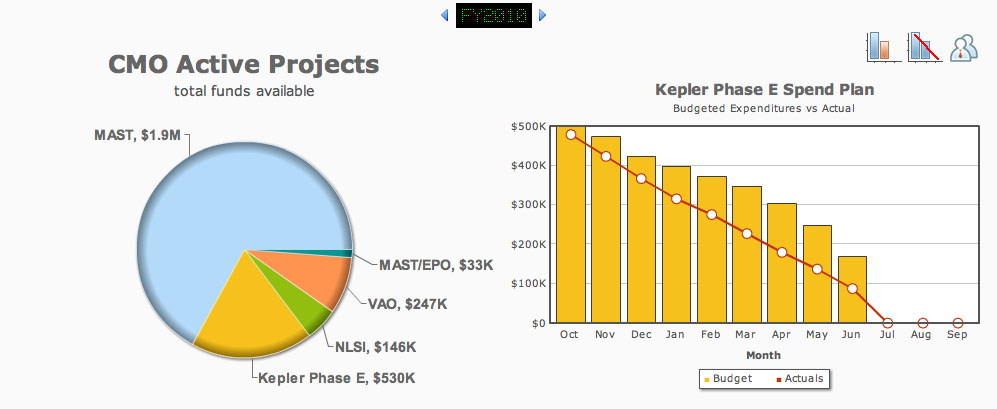 AOs and RFI opportunities: The bottom section of the first tabbed page exhibits the AOs and RFIs that CMO believes may have some relevance to the expertise at STScI. The intent is to identify opportunities for partnership with other institutions to build new missions and facilities. The table can be sorted according to release date, due date, relevance and the other columnar information. <em>Note - this feature removed due to lack of progamming support. </em>

Gantt Charts: We wished to put Gantt charts into the Dashboard for two purposes. One is to track specific projects, but also proposals, identifying milestones and deliverables. Secondly we wished to show how resources in the scientific staff, engineering staff, CMO and SPO were called upon to complete proposals that CMO supports. The original web-enabled gantt chart is shown below. Apparently this capability in the software has been removed, and a new milestone capability is available, but is far less useful than the gantt charts. A new solution must be found.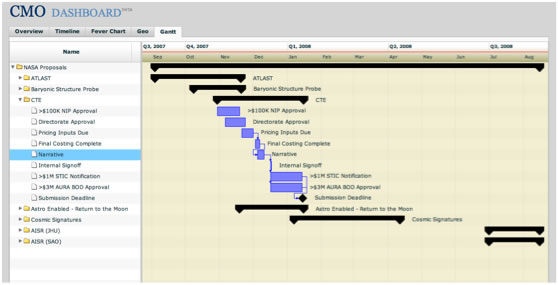 Fever Charts: There was a capability (still desired) to create a web-based version of our fever charts. This did exist but has now been removed.
GEO tagging of campaign opportunities: This was to be a map where CMO personnel could tag locations and annotate with opportunities to present materials regarding our projects such as ATLAST.
An iPad was obtained to test applications for use in CMO. Numerous applications were tested and notes compared with other iPad early adopters.