Requirements analysis
Software design, development, maintenance, testing, and documentation
Telemetry decommutation and processing
Attitude determination and sensor calibration
Evaluation and integration of commercial off-the-shelf (COTS) products
Internet, HTML, WWW, FTP, JavaScript, Zope, Tomcat, Servlet 2.2
Software development tools: Tools.h++, Purify, RCS, PVCS, UCM, KAI C++ Compiler, GNU g++ Compiler, Lucent® nmake
Working ability in modern German
Projects and Responsibilities
Honors and Awards
Projects and Responsibilities
1999-2000: Mission Operations Planning and Scheduling System (MOPSS)

Object-oriented client-server software development

C++ and CORBA programming

1997-1999: Landsat 7 Image Assessment System (IAS)
Algorithm Implementation Team

Software integration and configuration management

C and IDL development on SGI/IRIX platform

Website development

1995-1997: Hubble Space Telescope (HST)
Vision 2000 Control Center System (CCS) System Monitoring Team

Object-oriented analysis, design, and development

C++ and PV-WAVE on SGI/IRIX platform

COTS evaluation and integration
Website development
Onsite support

HST Servicing Mission #2 (STS-82), February 1997

1989-1995: HST POCC Applications Software Support (PASS)

Task Leader

Attitude Determination & Sensor Calibration subsystem
Spacecraft Subsystem Monitoring subsystem

Software development & maintenance

FORTRAN on Digital VAX/VMS platform

Onsite support
Facilitator, PASS Tools Committee
Publications
J. Boia, "An Algorithm for Estimating ETM+ Scan Number as a Function of Longitude and Latitude," internal memorandum (PDF, 42k), Computer Sciences Corp., Lanham/Seabrook MD, 24 May 1999.
G. Welter, J. Boia, et. al, "Variations on the Davenport Gyroscope Calibration Algorithm," NASA CP-3333, Proceedings of the Flight Mechanics/Estimation Theory Symposium, NASA/GSFC, May 1996.
E. Mushovic and J. Boia, Evaluation of Analysis and Trending Products for the Hubble Space Telescope (HST) Vision 2000 Control Center System (CCS), NASA/GSFC, Greenbelt, MD, March 1996.
R. McCutcheon, J. Boia, et. al, "In-Flight Scale/Distortion Calibration of the HST Fixed-Head Star Trackers," NASA CP-3265, Proceedings of the FM/ET Symposium, NASA/GSFC, May 1994.
Assorted PASS design specification and operations manual documents
Assorted Landsat-7 IAS documents
Honors and Awards
NASA/GSFC Group Achievement Award, 01 Sep 1999

Outstanding Teamwork: Landsat-7 Government Industry Team

Landsat-7 Achievement Award, 13 May 1999

Algorithm Implementation Team

NASA/GSFC Group Achievement Awards, 03 June 1994

HST Servicing Mission Observatory Verification Team
HST Contractor Support Team
Responsibilities
Laboratory instruction and recitation sessions for introductory undergraduate Physics courses
Advisor: Dr. Lindsey Davis, CCD Imaging Standards Consortium
Responsibilities
Data reduction and analysis of CCD images of globular clusters NGC 7790 and NGC 7006
FORTRAN programming
Organization of the data collection procedure
Find out more about Undergraduate Research Opportunities at NOAO.

Floating Teller
Maryland National Bank
Baltimore, Maryland
Summer 1985 and Summer 1986
Responsibilities
teller transactions
overnight depository
recap assignments
safe-deposit access
drive-thru window
Maryland National Bank no longer exists. The corporation merged with Equitable Bank to become NationsBank, which in turn merged with BankAmerica Corp. on 30 Sep 1998 to become Bank of America.
One year of graduate study in Physics and Astronomy.

Undergraduate Study
Department of Physics
Loyola College in Maryland
Baltimore MD
September 1984 - May 1988
Summary Info
Degree
Bachelor of Science,
magna cum laude
Major
Physics
Minor
Mathematics
Grade Point Avg
3.720
GRE Physics
570
GRE Verbal
650
GRE Quantitative
740
GRE Analytical
660
Thesis Papers
Chaos, Strange Attractors, and a Five-Mode Truncation of the Navier-Stokes Equations, December 1987.
(I've finally located my thesis advisor, Prof. Wm. Burgett, currently at the Univ. of Texas at Dallas.
The Classical, Gravitational N-Body Problem (in Two Dimensions), May 1988.
Honors and Awards
Loyola College Presidential Scholarship (full-tuition, 4 years)
Dean's List (7 of 8 semesters)
Maryland Distinguished Scholar
Sophomore Achievement Award in Physics, Spring 1986
Alpha Sigma Nu (National Jesuit Honor Society), inducted Spring 1987
Sigma Pi Sigma (National Physics Honor Society), inducted Spring 1988
Activities
Society of Physics Students

Secretary, 1985-86
Vice President, 1986-87
President, 1987-88

Freshman Retreat Team, September 1986
Freshman Orientation staff (3 years)
campus tour guide
WLCR radio Disc Jockey ("The John and John Show," Tuesdays from 8-11 am, 1987-88)
intramural soccer

Secondary Education (1980-1984)
Archbishop Curley High School
Baltimore, Maryland
Summary Info
Award
High School Diploma,
with Honors
Quality Point Avg
3.97
Class rank
1 of 173
SAT Verbal
650
SAT Math
760
Honors and Awards
The St. Alphonsus Scholastic Award (highest four-year Quality Point Average)
The Archbishop Curley Award (highest one-year Q.P.A) -- each of four years
The Crucible Award (Excellence in Science)
National Merit Letter of Commendation
Maryland Distinguished Scholar Award
Honor Roll
Activities
Captain, "It's Academic" quiz team
Index editor and contributor, The Cord (yearbook)
Staff reporter, The Curley Chronicle (school newspaper)
Contributing editor, Visions (literary magazine)
Chief instigator, The 1982 Obbie Squirrel Christmas Songbook
Computer Club
Stamp & Coin Club
P.A. Announcer
Extracurricular seminar in koiné Greek
Delegate to the 23rd Maryland Junior Science and Humanities Symposium (JSHS), April 1983
Elementary Education (1972-1980)
Shrine of the Little Flower
2800 Brendan Avenue
Baltimore MD 21213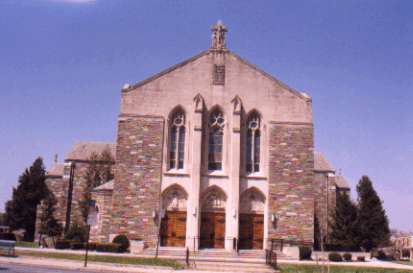 Diploma
Honors and Awards
Math Champ
Partial Scholarship to Towson Catholic High School (declined)
Activities
Student Council representative, 6th grade
intramural bowling league
This page was last updated 28 Oct 2008 18:18.
Return to main page.